Martin Luther, Pastoral Revolutionary
Thursday, December 11, 2008, 15:04
This news item was posted in
Articles
category.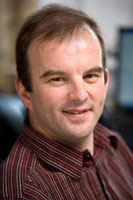 While Richard Baxter is known for his work "The Reformed Pastor", the Reformation as a whole as a dramatic shift in pastoral practice.
In this lecture, Dr. Carl Trueman discusses "Martin Luther, Pastoral Revolutionary". Dr. Trueman is the editor of Reformation 21. He is Professor of Historical Theology and Church History at Westminster Theological Seminary in Philadelphia and visiting professor at Puritan Reformed Seminary in Grand Rapids, MI.
This lecture was given at the annual meeting of the Reformed Fellowship which was held on November 7, 2008, at Trinity United Reformed Church, 7350 Kalamazoo Ave SE, Caledonia MI 49316.
The lecture is available free in MP3 format at the Reformed Fellowship website. Once there, you will have the opportunity to subscribe to their announcement list and then proceed to the bottom of the page to access this and other free lectures.

You can follow any responses to this entry through the
RSS 2.0
feed.
Both comments and pings are currently closed.
Comments are closed for this Article !