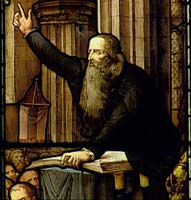 By  Brian Golez Najapfour
John Knox, born about 1514 in or near Haddington, Scotland,[1] is pictured in various ways. W. Stanford Reid portrays him as "trumpeter of God," an epithet that Knox himself would use to depict himself.[2] David D. Murison terms him "the writer," or "the pamphleteer."[3] Lemuel B. Bissell calls him "the father of Presbyterianism in Scotland."[4] In this paper, however, it will be contended that the designation 'theologian of prayer' can be rightfully conferred on him. In the following pages, then, Knox will be described as a theologian of prayer. In particular, his theology, piety and practice of prayer will be considered.
I. His Theology of Prayer
Knox's theology of prayer can be best seen in his A Treatise on Prayer, or A Confession, and Declaration of Prayers[5] also called A Declaration of The True Nature of Prayer (hereafter Treatise on Prayer), which he usually used in his sermons in the congregations where he preached.[6] He wrote this disquisition in 1553 before he left England for Dieppe, and after King Edward VI died. But it was not first published until July 1554, a year after Mary was proclaimed queen.[7]
The Treatise on Prayer, as its subtitle bears, purposely addresses three basic questions on prayer: (1) what true prayer is, (2) how we should pray, and (3) for what we should pray.[8] In its entirety however, this treatise may be divided into five major segments, which are hard to be detected if not carefully followed, because the structure of the treatise is not always obvious. The first division requires that prayer be made with utmost reverence, because of the character of God.[9] Similarly, the second section, on the same ground, stresses the need of repentance in prayer.[10] The third rebukes hypocrisy in prayer,[11] while the fourth castigates unbelief.[12] The fifth accentuates that godly prayer presupposes "the perfect [complete] knowledge of the Advocate, Intercessor, and Mediator."[13]
Since it is in the Treatise on Prayer that Knox concisely reveals his doctrinal position on prayer, this discourse will be used in this paper as the main source for the study of his theology of prayer, but an interaction with his other writings will also occur. In our survey of Knox's comments, it will be helpful for us to divide our treatment as follows: description of prayer, encouragement to prayer, place, time, object, and method of prayer, Spirit's work and Christ's role in prayer, and the issue of delay and denial in prayer.
A. Description of Prayer
1. Prayer as an indication of true faith
Knox opens his treatise by emphasizing the necessity of "the right invocation of God's name, otherwise called perfect prayer."[14] If a man is not acquainted with this perfect prayer his being a Christian is in question, since prayer "is the very branch which springs forth of true faith."[15] Prayer is an inherent fruit of saving faith. If one does not continually pray, he may not have been born again. As Knox argues, if any man does not pray, even if he is "endued with whatsoever other virtues, yet, in the presence of God, is he reputed for no Christian at all."[16] "It is a manifest sign, that such as are always negligent in prayer do understand nothing of perfect faith; for if the fire be without heat, or the burning lamp without light, then true faith may be without fervent prayer."[17]
Knox sees a close connection between 'true faith' and 'perfect prayer.' While perfect prayer emanates from true faith, true faith naturally produces perfect prayer. In this way, prayer becomes an indication of true faith.
2. Prayer as "an earnest and familiar talking with God"
Knox simply defines prayer as "an earnest and familiar talking with God, to whom we declare our miseries, whose support and help we implore and desire in our adversities, and whom we laud and praise for our benefits received."[18] As such, prayer "contains the exposition of our dolours [sorrows], the desire of God's defence, and the praising of his magnificent name."[19]
Since prayer is conversing with God, we must realize who God is—that this God we are speaking to is the "omnipotent Creator of heaven and earth, and of all the contents thereof; whom a thousand thousand angels assist and serve, giving obedience to his eternal majesty."[20] This realization, according to Knox, should provoke us to do prayer "most reverently," and to assiduously flee from things that "offend his godly presence," and to ask for things "which may be pleasant and acceptable in God's presence," and "which may be most to his glory, and to the comfort of our conscience."[21] Otherwise, states Knox: "all our prayers are in vain."[22] God does not hear sinners—those who "do glory and continue in iniquity. So that of necessity, true repentance must needs be had, and go before perfect, or sincere invocation of God's name."[23]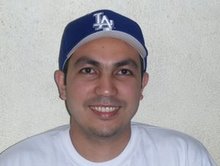 Brian Golez Najapfour is a Master of Theology student at Puritan Reformed Theological Seminary. A member of the Evangelical Theological Society (ETS) and International John Bunyan Society (IJBS), he is originally from the Philippines.